Asylum Dev Diary 51 – It's the Fuzz
Well, not quite, but the police vans have arrived. I've made a lot of progress in building the reception floor. Initially, my scale was out and the main reception area was just too large. So, I've scaled things down a bit.
As you can see from the screenshot below the police are outside the building. This will serve as an important moment in the game so I'm not going to detail it here to avoid spoilers. I am however very pleased with the lighting for the vehicles. I have 2 red and blue lights that are spinning on the top of the vans that add a fantastic looking effect to the darkened interior of the building.
This is an early shot without the main doors in place.
Here's the final look with the doors.
The next stage here is going to be one of the most complicated aspects of the game so far. I'm first going to need to add in a new character (the cop) and I'm going to need to trigger a sequence of events, but I shall leave that for another session.
I've got myself two new pieces of kit for the development of the game. A Blue Snowball mic, that will help me create sound effects and also voice some of the dialogue, and a flexible camera stand that I will use to take awkward overhead photos for further sprite references.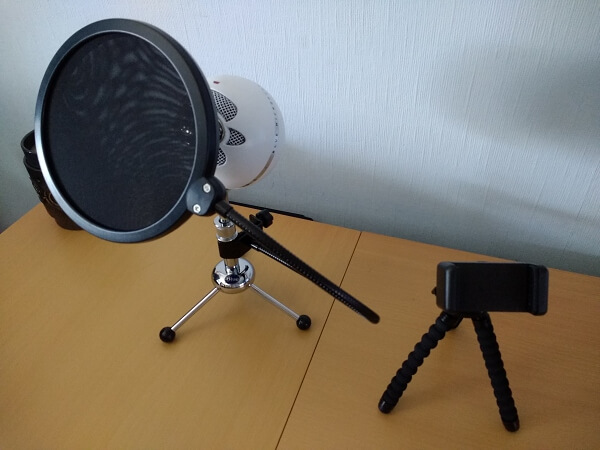 I've started experimenting with voicing the dialogue of the main character. So far I'm very pleased with the mic, it's giving me a very clean audio file with almost no background noise. What little noise there is can be processed out in Audacity with ease.